---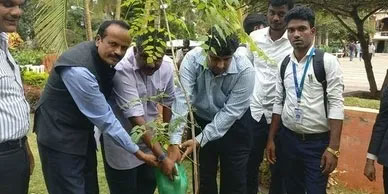 Beautiful gardens with serene atmosphere conductive for studies. Indoor,outdoor games and ports facilities available.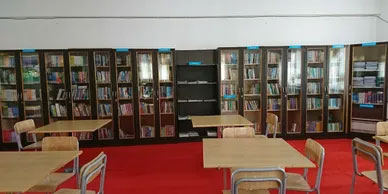 The SJES library has an impressive collection of books, journals and magazine and is member of National Digital Library Network which has access to over 2 Crore resources.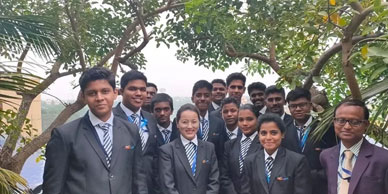 The Placement and Career Guidance Cell prepares the students to face the fiercely competitive corporate world
Industrial Visits
Regularly Industrial Visits and Study Tours are organized for various courses to expose them to the developments in the industry. Students have visited industries like NSL Sugars, Mysore Sandal Oil Factory, Celebration Apparels, Kalbhavi Cashews, Bawa Fish Meal Co., Sun Blessed Coffee, Conrad Hilton, Time of India Press, and many more.
About Us
About SJES College of Management Studies
SJES (Sri Jayachamarajendra Education Society) was founded by Late Sri. Kaverappa in 1979, as a multifaceted educational organization centrally located near K.R. Puram, Bangalore, providing high quality education and has been instrumental in shaping many lives. It was the founder's dream to contribute as much as possible for the education and upliftment of the weaker sections of the society especially from the rural areas. With this objective, along with a group of like-minded people, Sri Jayachamarajendra Education Society (R) was established in 1979. The primary objective of the Society has been to impart quality education in the areas, where there is a shortfall in the availability of such educational facilities.
Admission Open
A pass in Karnataka SSLC examination or any other equivalent examination recognized by the Karnataka State P.U.E. Department The applicant shouA candidate who has passed the B.Ed., examination of the University or any other University recognized as equivalent thereto shall be eligible for admission to the course, provided he/she has secured at least 50% of the marks in the aggregate. In the case SC/ST students this percentage of marks shall be at least 45%. However candidates who are deputed by the Government of Karnataka to the course are exempted from the above (II a) eligibility condition.ld satisfy all other condition set by the State P.U.E. Department and the College. Students passed Std. X or equivalent examination in foreign countries /Foreign Nationals have to obtain Eligibility Certificate from The Director, P.U.E. Department, Bangalore, before securing admission.
A multi-gym facility is available for the fitness ,enthusiasts and both indoor and outdoor sports facilities are available in the campus. Sports day is organized every year and our students regularly participate in University level and Inter University tournaments.